Croquis
Croquis drawing is quick and sketchy drawing of a live model. The models are often nude, so the painter can study the behaviour of a human body at rest. PainterTool can be used for practicing this skill.
First, find a model photo you want to use. One way of finding photos is to browse the web, looking for photos of sculptures or other nude situations. Save images to your album, and use the PainterTool collection view to fetch it.
Spend a few minutes making the best drawing you can of the model photo. Remember that this is for practice, so you do not use PainterTool to adjust the sketch while doing this.
Concentrate on how the body parts relate to each other, and how the location of the parts compare horizontally and vertically. Find a vertical line and determine how the head and the feet are related to it. Recognize the shape of the negative spaces, like the space between the arm and the body.
When you are done, tap the yellow plus button to take an art photo of your drawing.
Drag, pinch and rotate the art photo until it matches the model photo as well as possible. Now you can see where your drawing differs from the model.
A croquis drawing may take anything from a minute to half an hour. When you are done, you can use the same model photo for another drawing, or use another.
Croquis is used for practicing how to draw what you see, which is where PainterTool will help you. The comparison will tell you if you are consistently making the head or feet too small or the legs too short.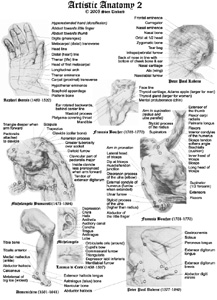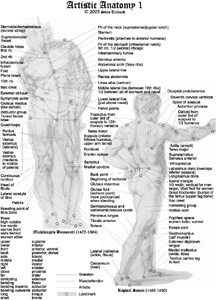 Croquis is also used for learning which features to emphasize, and how to make your drawing come alive. This is something PainterTool will not help you with.
Study of the human body. Tap these images to open maps of significant artistic points.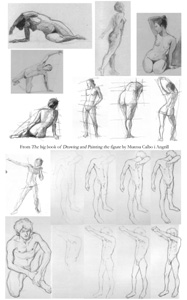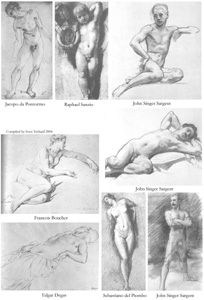 Study the masters and other artists. Note where lines are thick and where they are thin. Note how the difference is used to give the impression of volume.
These are a few anatomy tips.
Draw lines to describe form
Cultivate the habit of forcing everything into its simplest geometric form
Draw lines of outer edges, change of planes, colors, tones and funtions
Details in highlight are drawn lightly
Hatchings usually follow muscle fibres
Ribcage like egg from front, block from side
Spiral contour lines are linear symbols of rotation
Simplify masses to blocks, spheres, cylinders, cones and eggs
Simplify lighting to one direct and one weaker, indirect from the other direction.
There is a dark shade (plane break) between light from direct and indirect source.
Normally, do not draw cast shadows
See what you know.
No concave lines on outer body edges, just series of convex.
Value of shading of details are close to value of local shading of mass
Always consider what light is creating a shade
Bottom of scapula and nipples are in line.
Front edge of tibia follows axis line of thigh on straight leg
Try to keep highlight close to the plane break for contrast
When a form points in the direction of the direct light, it is necessary to alter the direction of the light source
Hooks on hatchings may indicate plane break
Most muscles in the face move skin, not bone
Muscles in face tend to converge toward the oral region
Wrinkles form about right angles to the direction of muscles
Crow's feet by the eye suggest a tendency to smile frequently
Sharp contrast attracts attention